Friday, May 23, 2008
Posted by Kristen - Dine & Dish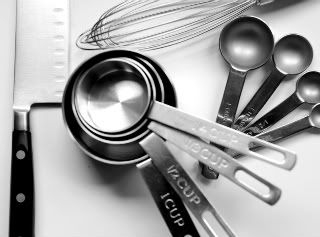 As a newlywed ten years ago, I would feel so proud when I would come home from work and share a home cooked meal with my husband. At that time in my life, home cooked usually included a box of Hamburger Helper and a can of green beans. If I was feeling extra ambitious, I would toss in some slice and bake cookies into the oven and we would have dessert. It was not until after my first child was born and I left the corporate world to raise him that I began to take an interest in cooking. I felt a need to take on a more domestic role, to feed my family better, and to nurture an inner desire to be more accomplished in the kitchen.
Over the years, my culinary skills have improved and the confidence I have in the kitchen has greatly increased. When I think back to the time in my life before I became an accomplished cook, I try to recall what kept me from venturing into the kitchen in the first place. Looking back, the obstacles that I had to overcome could be summed up under the categories of confidence, equipment and time.
Confidence
I grew up with a mom who had a huge dinner on the table every night. Everything was homemade and even though I spent a lot of time with her in the kitchen, I did not spend a lot of time absorbing what she actually did in the kitchen. As I started to spend more time in the kitchen as an adult, I began to set small goals for myself. I would start out cooking one or two new recipes a week, building up a repertoire of favorites. I would clip recipes that seemed fairly basic and straightforward and would eventually move on to recipes that were slightly more complex. It was not until I began to gain confidence in the kitchen that I was able to embark on trying out some of the family recipes my mom used to make. By building up my skills, then attempting more complex recipes after the basics were accomplished, I built a solid foundation of self-assurance that gave me the courage to move on to the more challenging recipes. If I would have done it any other way, it most likely would have resulted in my getting discouraged and giving up on future culinary endeavors.
Equipment
Most people, especially newlyweds, have drawers full of kitchen gadgets… most of which are unnecessary for the beginning cook. As you start to cook more, you will soon realize that the most necessary tools for cooking are: a really good knife, a basic set of pots (frying pan, stock pot, saucepan), a meat thermometer, a cutting board and measuring cups/spoons. With these essential tools, you can accomplish a lot of fundamental tasks in the kitchen without breaking the bank on useless gadgets.
A pantry stocked with basic ingredients is also important when learning to cook. Essential pantry lists can be found in most major cookbooks or by doing a quick keyword search on Google.
Time
Creating home cooked meals does take some time, which is often why people shy away from attempting to venture into the kitchen. Simply put, the thought of spending whatever extra time you have in your day in the kitchen is not appealing to a lot of people. What if I told you that with a little ahead planning, your time in the kitchen can be minimal and you can still serve your family home cooked meals? Sitting down once a week to plan your weekly menus out, doing a quick grocery shopping trip of items you may need, and doing any advance prep for your meals the night before can make whipping up a meal after work as easy as stopping by the nearest restaurant for carry out.
There are a lot of resources out there in the form of magazines, food blogs, cookbooks and television shows that offer ideas for quick and easy weeknight meals. Take advantage of those resources, especially as a beginning cook, and you will discover that being accomplished in the kitchen is easier than you had ever imagined.
---

Are you interested in contributing to The Daily Tiffin? Drop us an email:

blogmeeta@gmail.com

. We look forward to hearing your ideas.

This Post was written by Kristen from Dine and Dish.