Thursday, July 23, 2009
Posted by DK
---
Have you noticed how certain ingredients which were earlier labeled as
"Poor Man's Food"
have now come to be adorning the health food stalls of today? Or sometimes even the gourmet plates of people calling themselves the connoisseur of fine food? Paradox or the fate of homosapiens today? – call it whatever, it sounds indeed heartening that whole "complete" foods have come to be cherished and they have finally "arrived" at last.
What Are Wheat Berries?
Among such ingredients, Wheat berries find its rightful place. They are nothing but Whole Wheat grains with the husks removed. The ones responsible for imparting nutrition to our body – the bran, the germ and the endosperm – remain intact and that's why consuming these are extremely beneficial. For the least amount of calories, you get maximum amount of fiber and nutrition. I mean with such a bargain – what is it that you are waiting for?
How do they look and where to look for them?
I know when someone mentions a new ingredient to me, my brain cells starts grappling to any image that it could possibly associate to in its memory book and if nothing comes around, gets frustrated. So to avoid this unnecessary process let me show you a picture which will put you at ease and the next time you buy these, you know you are not bringing home something else assuming them to be these berries!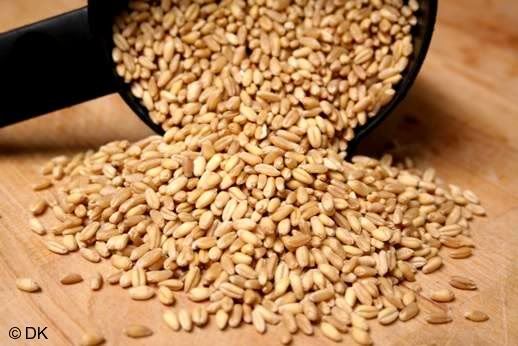 The berries are sturdy grains with brownish-reddish tinges. Here in the U.S they are mostly available in the health food section. In India they can be bought in regular stores which sell grains.
How to cook Wheat Berries?
To do it the
propah way
, it would have to be:
Clean and soak the wheat berries overnight,

Cook them on a stove top for 1 to 1-1/2 hours until the grains get chewy and add them to your salads or something of your choice
But the motive of this post is to make sure you consume these grains and not to chase you away with the labor associated with them! I mean the way the current universe is trying to maintain its balance on a roller coaster ride, we don't have the time to waste – 'err I mean' – to embark on such strenuous process.
Hence quick method to cook these is:
Buy a Pressure cooker. I know that you know that you can afford it! Awe come-on – imagine the amount of time you save, the extent of nutrition that you are going to gain for the "pounds" [ pun intended ] you are going to lose. And this gadget lasts like forever!!
Soak the grain overnight (or forget it! Doesn't matter).

For 1 cup of Wheat Berries add 2 cups water and cook for 15-20 min ( which amounts to approx 5-6 whistles for me in an Indian styled cooker)

For the curious cats - lemme put it in another way - for the Knowledge Thirsty -
here is a comprehensive list of ways to cook Wheat Berries
, if you are interested, where it includes cooking methods in microwave, stove top, pressure cooker even rice cooker.
Recipes that Make Wheat Berries interesting
Just like there is a myth floating around that vegetarian foods are bland and that they suck (
sorry to burst your bubble, but its that recipe in your hand that does
), there is also this hate-hate relationship with foods which are listed under
'Health Food Section'
. Forget your Arborio rice, these Wheat berries when cooked throw up fierce competition in the chewy department. Move over plain old white rice – Wheat berries are here.
They can be enjoyed as
Breads (I have one baking in my Oven right now! Yum)
Soups ( my recipe below )
Stews ( see this recipe and tell me if you are not inspired!)
Or come to think of it - throw in some the next time you make your favorite Chicken casserole. No one will know! Even if they do who cares – they will be tasty – so no worries

I have one recipe in my blog to convert you into wheat berry hoarder
Wheat Berry and Pinto Soup is one hearty and yummy appetizer which I assure you will warm its way into your appetite.
I am trying out some pancakes with some wheat berries too! It's a new whole world out there – Why don't you take a gander with me to explore these, burp with satisfaction and say bon appétit!
This post was written by Dhivya

Are you interested in contributing to The Daily Tiffin? Drop us an email: thedailytiffin@gmail.com. We look forward to hearing your ideas.