Friday, January 22, 2010
Posted by Antonio Tahhan
If you take a potato, an egg and an onion, you can make culinary masterpieces. One of them is the incredibly popular Spanish tapas called, Tortilla Española. You can find this dish in Spain at almost any restaurant, bar and café. I add chorizo to my variation because you can add chorizo to almost anything and make it taste amazing. It's true, with the exception of ice cream, maybe. Chorizo is essentially a Spanish pork sausage that is packed with garlic and hot paprika (pimentón). It's spicy, but not overwhelming spicy, and is used extensively in Spanish cooking.

Tortilla has become ubiquitous across Spain, but is believed to have originated from Navarro, a municipality in the province of Asturias in Northern Spain.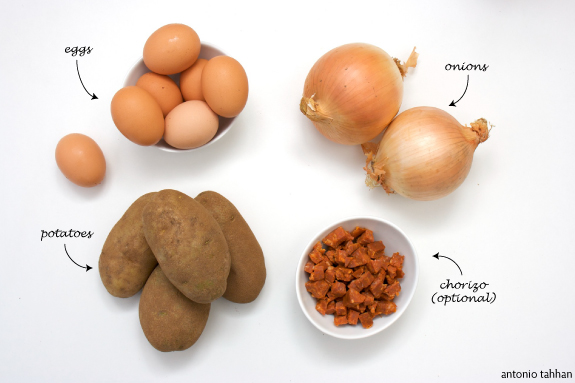 You want to start off by peeing the potatoes, using a mandolin preferably, or a very sharp knife in order to get 1/8" uniform slices. This is important because you want your potatoes to cook evenly. If you don't own a mandolin, try to see if your box grater has a slicer option on the side -- they usually do. If not, you try and use your sharpest knife which will help make uniform slices a lot easier.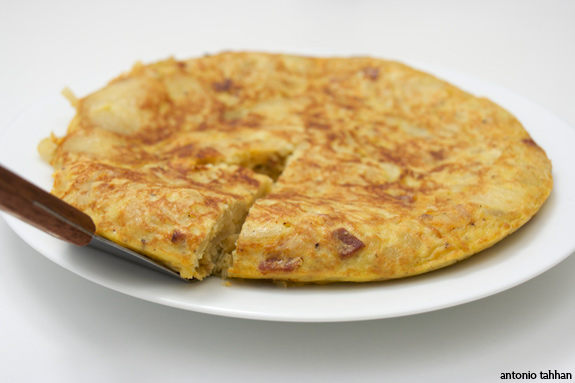 The best part of this dish is that it can be made at any time since these are all ingredients almost everyone has in their pantries at any given time. In Spain the tortillas are usually made in extremely large skillets and served by the slice at the tapas bars. They're so popular, in fact, that they have a special plate that was designed specifically to flip the tortilla over midway through the cooking process. At home I don't have this special plate, but any large flat plate will do the job just fine.


Recipe: Tortilla Española
ingredients


4 medium russet potatoes


5 eggs


2 Spanish yellow onions


Extra Virgin Olive Oil, for pan frying


Spanish Chorizo (cured not fresh)


Salt and pepper, to taste


steps


Remove the skin from the chorizo, dice and saute in a skillet over medium-high heat for 2-3 minutes to render some of the fat.


Peel the potatoes and slice into 1/8" disks.


Peel the onions, cut in half, and slice roughly the same width as the potatoes.


Add plenty of olive oil to the skillet and add the potatoes and onions to cook over medium heat (stir regularly to make sure they don't brown).


In a bowl, whisk the eggs.


Once the potatoes and onions have cooked (i.e. potatoes are tender), drain the potatoes from any excess oil, and add the potato and onion mixture to the eggs along with the chorizo.


Add everything back to the skillet and cook until one side is golden brown. At this point, take a large plate, flip the tortilla onto the plate, and quickly invert the other side back into the skillet.


Finish cooking until the second side is golden brown and enjoy.


---
This post was written by Antonio Tahhan
Are you interested in contributing to The Daily Tiffin? Drop us an email: thedailytiffin@gmail.com. We look forward to hearing your ideas.